Catalysing Change Week | 1–5 May 2023
Solutions from the Frontlines
Catalyst 2030 Catalysing Change Week
Catalysing Change Week (CCW) is the world's largest event led by social innovators and entrepreneurs to share knowledge, exchange ideas and accelerate collaborative systems change. 
CCW brings together thousands of systems catalysts, including social entrepreneurs, representatives from the private sector, governments, funders and others who are working to address the world's most pressing challenges.
The annual event comprises of 250+ interactive sessions and activities designed to stimulate learning and to create opportunities for participants to engage and collaborate with one another.
CCW is coordinated by Catalyst 2030, to leverage the power of the collective to accelerate transformative change in the lives of billions of people around the globe.
CCW2022 Session Recordings
The theme of CCW2022 was "Let's Re-Energise the SDGs" and was built around three catalysing themes: Amplify. Accelerate. Action. The CCW2022 programme included many hybrid, offline and online sessions and events that were free for anyone to attend. Many of these dynamic events have been captured on video and will be shared on YouTube as they become available.
Posts about Catalysing Change Week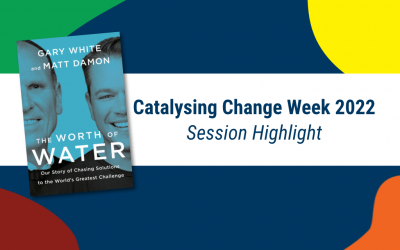 Join Gary White, co-author with Matt Damon of 'The Worth of Water' to learn how Water, A Rising Tide on the Global Agenda is imperative.
read more