The theme for #CCW2022: "Let's Re-Energise the SDGs"
Why it is important? The SDGs need re-energising to refocus the attention of social entrepreneurs, governments, funders and other stakeholders on the urgent socio-economic challenges faced by people all over the world. The recent COVID-19 pandemic saw a shift in focus and a surge in awareness of the lack of health services in countless vulnerable communities. This often only led to short-term fixes, while excluding the other systemic challenges such as access to education, housing, transport, financial services and employment.
Three Powerful Catalysers:

Amplify.

Accelerate.

Action.
At CCW2022, three powerful catalysers were mixed to create catalytic reactions across the global community, leading to a more rapid achievement of the SDGs.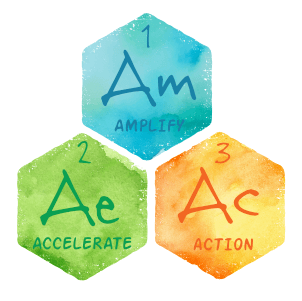 Am – Amplify

 themed sessions and events showcased Systems Catalysts' work and amplified their voices and frontline experiences.
Ae – Accelerate

themed sessions and events created a space where Systems Catalysts across sectors – from innovators and entrepreneurs to funders and policy makers – could connect and understand each other to bring about catalytic change.
Ac – Action

 sessions and events advanced progress through committed global action to make the world a fairer and better place for all.
CCW takes action in support of a movement that accelerates collaborative systems change. Members are encouraged to propose sessions that feature participants' clear commitments to achieve specific action.
Systems change addresses root causes, rather than symptoms, by altering, shifting and transforming structures, customs, mindsets, power dynamics and rules, through the collaboration of diverse social networks. The aim is to achieve lasting solutions to socio-economic challenges on a local, national and global level. Learn more
here
.