CCW2022 provides your organisation with the ideal opportunity to promote its work though coverage in local, regional and global media.

Highlight your organisation's involvement in CCW to expand the reach of your own message, while reaching different audiences to widely spread the word about CCW2022 and the specific events and sessions you are hosting. Here is a basic guide on how to approach the media to promote your work and CCW 2022.
Communications Toolkit
The CCW2022 Communications Toolkit contains recommendations on how to approach the media and write a press release to help promote Catalyst 2030's Catalysing Change Week.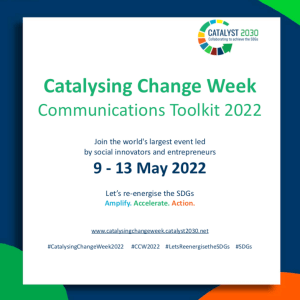 7 communication steps to promote your session/s and event/s
Email your network to invite them to join #CatalysingChangeWeek2022 #CCW2022 during 9-13 May 2022.
Send a newsletter blast about #CatalysingChangeWeek2022 #CCW2022 and your event/s or session/s.
Engage members of the press to highlight your events and sessions.
Actively reach out to key people in the field or related fields. Invite them and tag them to your profile with @Catalyst2030 on Facebook, LinkedIn, YouTube and @Catalyst_2030 on Twitter and Instagram. Use #Catalyst2030 where possible to link your activity to the CCW2022.
Link to media influencers who write about the issue that you are working on.
Blog about #CatalysingChangeWeek2022 #CCW2022 and connect with bloggers to get them involved.
See 'Social media section' to follow the five steps to promote your session on social networks for CCW2022.
How to work with the media?
Media coverage, whether traditional or online, can be a great source of exposure because of its cost-effectiveness – it's completely free – and wide reach. However, it can take time to research the appropriate media for your messaging, to establish relationships with editors, journalists, writers and bloggers and to pitch yourself to the media organisation and respond to interview opportunities.
5 tips to working effectively and productively with the media

Develop solid relationships long before you "need" them.
You want to be prepared for your interaction with the media. If you have developed a solid relationship with the media outlets that matter to you, you will be in a much better position to respond to requests that may not show you – or your business – in the best light. There will be a relationship of trust established that will serve you well.
Know the media most likely to target you and the media that you would like to target.
Be proactive in your dealings with the media. Develop a list of the media where you would like to receive coverage, as well as a list of media that are likely to be interested in your business and its activities. Your local media outlets are likely to be your best bets. Make sure you know who the editors are, and the reporters who specialise in your subject. If the list is very large, you will want to do some prioritisation.
Create and focus on key messages.
You should have both general key messages about your business and its products/services that you use for every interview and specific key messages that you develop for each media interaction. Your general messages should focus on the messages that you want the media – and, ultimately, your target audience, to know about you.
Be a "broken record."
While you can never anticipate with 100% accuracy what questions a reporter is going to ask you, you do know with 10 % certainty what your key messages are. You should refer to those key messages again and again throughout the interview.
Make the reporter's job "easy."
Provide background information and additional materials, especially if your message is complex, and you are concerned about the reporter "getting it right." The added benefit of providing background information, though, is that reporters are busy people and if you have provided good, well-prepared information it is likely to be used.
Newsletter text
Please feel welcome to use this example text below in your newsletter:
For five days from 9-13 May 2022 you will have the opportunity to join us at Catalyst 2030's Catalysing Change Week (CCW). CCW2022 offers the unique opportunity to engage with the world's most innovative changemakers as they collaborate, co-create and share best practices. We know that you share our goal of bringing about the changes that are needed to achieve the SDGs by 2030, and we invite you to join us at this unique event.
Join over 250 sessions and activities. Please register to attend: https://catalyst2030.info/CCW2022Events
#CatalysingChangeWeek2022 #CCW2022 #SDGs #Catalyst2030 #CatalysingChange #AcceleratingAction
Catalyst 2030 is a global movement of social entrepreneurs and social innovators who share the common goal of creating innovative, people-centric approaches to attain the Sustainable Development Goals (SDGs) by 2030.
Press Release
Make sure to engage media and press about  #CatalysingChangeWeek2022 #CCW2022, your events and session/s.
Press Release for CCW2022
A press release for Catalysing Change Week 2022 is available in the CCW2022 Resources folder and can also be viewed online.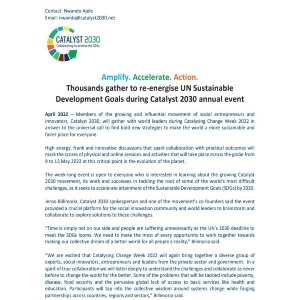 Press releases are an effective way to start conversation regarding CCW events and are a commonly used public relations tool for media coverage and visibility. The purpose of a press release is to get attention, make news and generate publicity. Most importantly, press releases are an effective way to spark interest in Catalysing Change Week in a factual and efficient way. A well-written press release can be considered a cost-effective marketing tool to gain the media's attention for a potential news story and a great way to make an official announcement.
Before sending a press release, ask yourself:
Will this information make an interesting headline for a journalist?
Is the news about Catalyst 2030 CCW going to appeal to my target publications?
Will my target audience find this news interesting and important?