Everything for planning, sharing and running Catalysing Change Week activities.
CCW2022 Handbook
This handbook is for everyone interested in participating in Catalysing Change Week (CCW) 9-13 May 2022. The Handbook will help you plan your sessions/events and includes information about the campaign, ideas for activities, publicity and media tips as well as an overview of the available resources.
CCW2022 Resources Folder
This CCW2022 resources folder holds resources for session/event organisers and members wanting to share about CCW2022. It includes handbooks and toolkits for communications, social media and branding, press releases, templates for creating social media graphics, PowerPoint slide templates and Zoom backgrounds.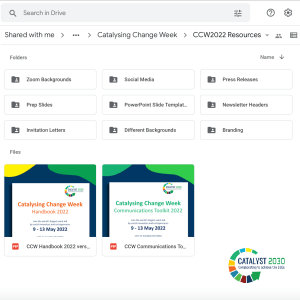 Press and Media Guide
Highlight your organisation's involvement in CCW to expand the reach of your own message, while reaching different audiences to widely spread the word about CCW2022 and the specific events and sessions you are hosting. See the guide on how to approach the media to promote your work and CCW 2022.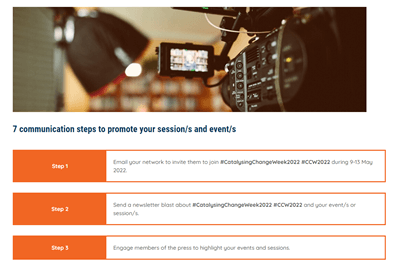 Press Release for CCW2022
A press release for Catalysing Change Week 2022 is available in the CCW2022 Resources folder and can also be viewed online.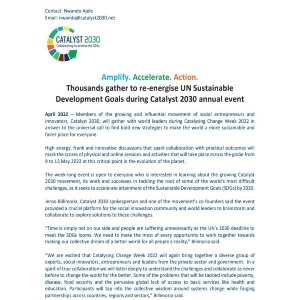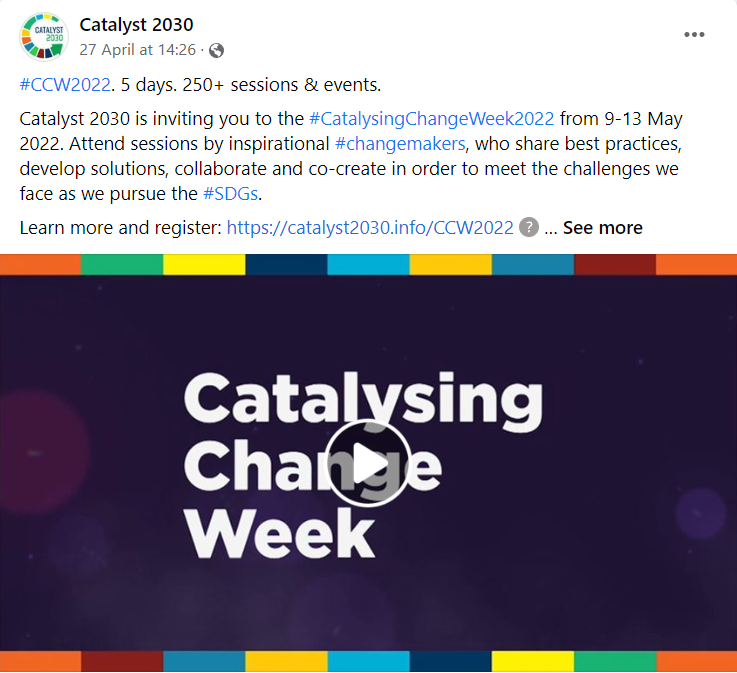 Social Media Guide
Social networking sites can reach a wide audience at little or no cost. Use existing accounts, or ask colleagues, partners, volunteers and friends to promote your CCW activities through their personal profiles. See the online CCW2022 Social Media Guide for tips and ideas.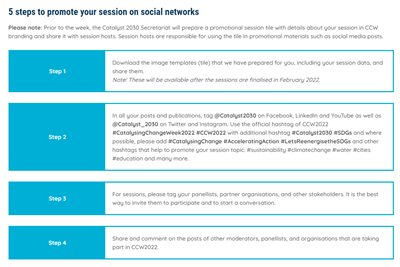 Social Media Toolkit (external)
The Social Media Toolkit is a guide for everyone participating in CCW2022 and includes tips for raising awareness and promoting events/sessions. The toolkit includes sample posts and templates to create CCW branded social media graphics.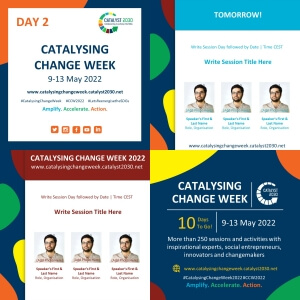 Featured Social Media Posts
Sessions hosts and speakers can use these social media graphics and templates to promote their featured sessions and to share 'countdown to CCW2022' graphics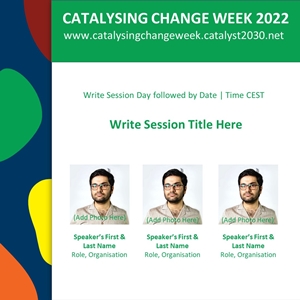 Communications Toolkit
The CCW2022 Communications Toolkit contains recommendations on how to approach the media and write a press release to help promote Catalyst 2030's Catalysing Change Week.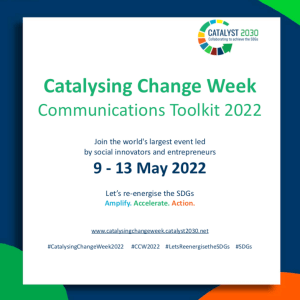 CCW Invitation Letters
The following invitation letter templates are available for members to use to invite potential CCW2022 speakers:
Invitation Letter to Speak at Catalysing Change Week 2022
Email for Chapters to Invite Speakers for CCW2022