Catalysing Change Week
| 9-13 May 2022
Connect. Celebrate. Accelerate.
Catalysing Change Week (CCW) is an annual campaign for social entrepreneurs, representatives from the private sector, governments, funders and others involved in systems change to inspire change in support of achieving the SDGs.
CCW2022 (9-13 May 2022) will be built around three catalysing themes: Connect. Celebrate. Accelerate. Learn more about these catalysers here.
CCW is organised by Catalyst 2030. It enables participants to tap into the collective wisdom around systems change while forging partnerships across countries, regions and sectors to advance the SDGs. Our aim is to inspire change in the mindsets, culture and behaviours of policymakers, funders and leaders, and empower social innovators and communities to affect lasting change.
The Campaign's programme includes:
Catalyst 2030 Local Chapter Initiatives
Please use this form if you are Catalyst 2030 Regional and/or Country Chapter lead to report on the online and offline events and activities that you are planning to organise in your country during CCW2022.
Catalyst 2030 Global Online Sessions
Catalyst 2030 members, chapters and Catalyst 2030 Awards finalists propose and host online sessions.
CCW2022 Submission Form for Sessions
If you are a Catalyst 2030 member, Catalyst 2030 Awards 2021 finalist, Regional and Country Chapter, please use this form to submit and propose session/s that you consider of interest, value and wish to host during CCW2022.
Catalysing Change Week 2022 is organised in collaboration with the
Skoll World Forum
, a premier international platform for advancing entrepreneurial approaches and solutions to the world's most pressing problems. CCW2022's inclusive platform will gather the ideas, voices and actions from the global social entrepreneurship community. The outcomes will be shared during the Skoll World Forum April 2022.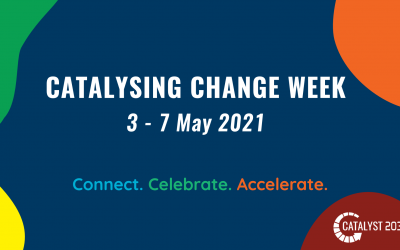 Catalysing Change Week 2021 was the story of more. More sessions than ever before, more speakers, more regions represented, more connections established and more impact than we could have dreamed of.
read more