Catalysing Change Week
| 1–5 May 2023
Solutions From the Frontlines
CCW2023 Submissions Open Now
From the start, Catalyst 2030 members have explored systems change approaches as a means to accelerate our collective efforts to achieve the SDGs.
What is systems change? Recognising that there is no one definition, see how systems change was explained in the New Allies report:
Systems change captures the idea of addressing the causes, rather that the symptoms, of a societal issue by taking a holistic (or 'systemic') view. Systemic change is generally understood to require adjustments or transformations in the policies, practices, power dynamics, social norms or mindsets that underlie the societal issue at stake. It often involves the collaboration of a diverse set of players and can take place on a local, national or global level. The iceberg illustration below shows different levels at which systemic change can take place: 'deeper' changes tend to result in greater impact, but less-dramatic shifts can pave the way towards these deeper changes.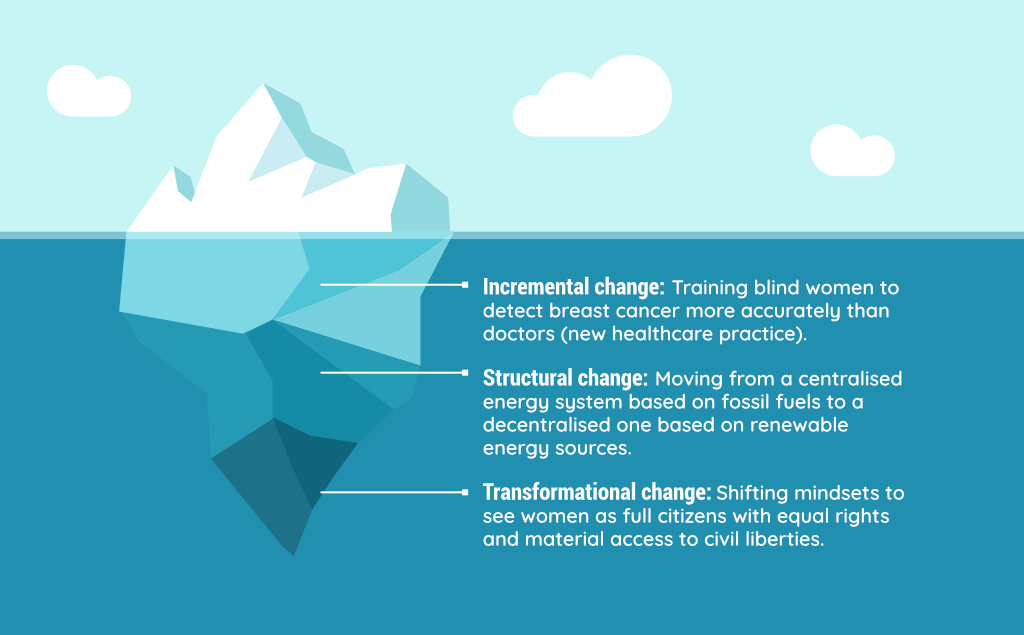 Shifting, reconfiguring, and transforming
Mind-sets, mental models, and paradigms
Patterns, underlying structures, and ways of operating
Dynamics and relationships
In order to
Address underlying root causes
Deal with complex, uncertain, and interconnected systems that are ever-changing
Engage in the potential of living systems
Solve big social issues
Through intentional process and design, purposeful interventions, and conscious,  deliberate approaches such as
Taking living systems and complexity approaches
Growing the number of people who think and act systemically
Enabling and supporting leaders with the power to convene systems
Strengthening capacity and processes to engage
Strategic, multi-stakeholder approaches, coming together across systems
Having an inner awareness of the whole
With the outcome of creating, enduring and positively affecting
Different behaviours and outcomes
Resilient, lasting, and better results
Building a bridge to a better tomorrow
Increased systems health
Positive social change
Just, sustainable, and compassionate societies
A new normal, the emergence of a new system and a new reality
The Catalyst 2030 Theory of Change
Catalyst 2030 has developed its own 'Theory of Change'.
To develop this theory of how to best effect systems change, a task force of Catalyst members analysed our current reality, built the future we would like to see and developed a pathway to get there.
A detailed narrative of our Theory of Change is availble in pdf format here.